KrakenD API Gateway Now Available in the Microsoft Azure Marketplace
by Albert García
Apr 7, 2022
2 min read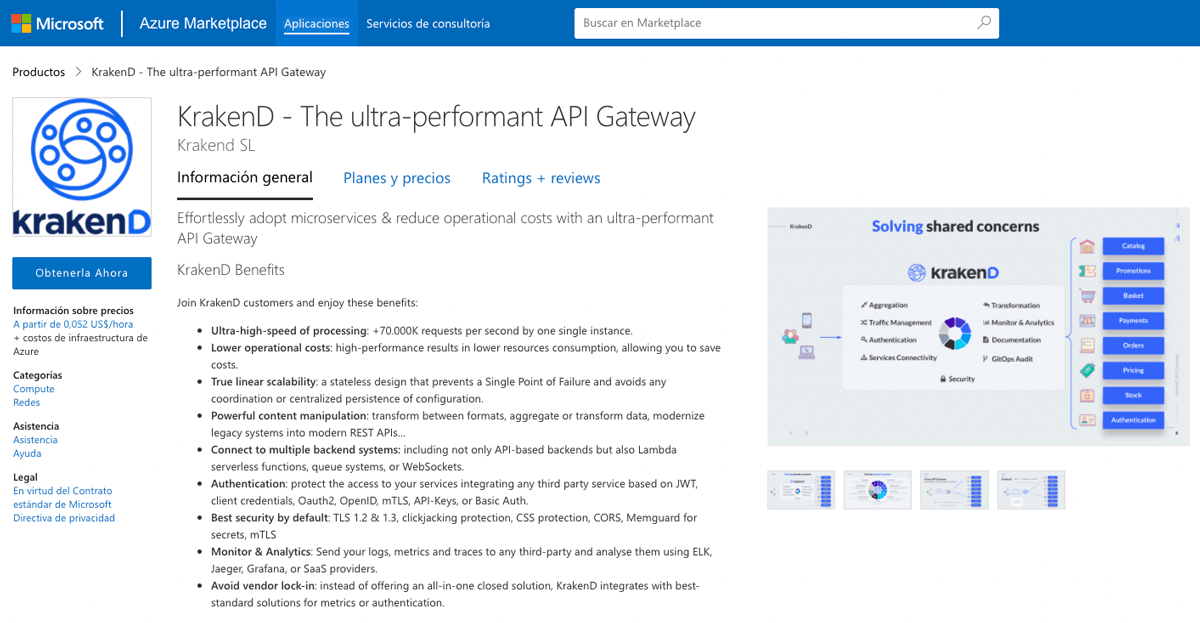 BARCELONA, Spain — April 7, 2022
KrakenD today announced the availability of KrakenD API Gateway in the Microsoft Azure Marketplace, an online store providing applications and services for use on Microsoft Azure. KrakenD customers can now take advantage of the scalability, high availability, and security of Azure, with streamlined deployment and management.
The KrakenD API Gateway serves as a unified interface for managing incoming API requests and connecting to the correct destination, while supporting functionalities across security, authorization, traffic management, observability, and load balancing, among other services. With quick deployment from the Azure Marketplace, KrakenD helps developers to easily create modern, scalable, and performant APIs with a straightforward implementation.
Albert Lombarte, Chief Executive Office at KrakenD, said, "Making KrakenD API Gateway available on the Microsoft Azure Marketplace as a certified and optimized solution will make it easier than ever to discover, try, and deploy our software for cloud customers around the world. A world-class combination that mixes one of the most robust API Gateway solutions in the market with the excellence and convenience of the Hybrid Cloud services from Microsoft Azure."
Jake Zborowski, General Manager, Microsoft Azure Platform at Microsoft Corp., said, "We're pleased to welcome KrakenD API Gateway to the Microsoft Azure Marketplace, which gives our partners great exposure to cloud customers around the globe. Azure Marketplace offers world-class quality experiences from global trusted partners with solutions tested to work seamlessly with Azure."
The Azure Marketplace is an online market for buying and selling cloud solutions certified to run on Azure. The Azure Marketplace helps connect companies seeking innovative, cloud-based solutions with partners who have developed solutions that are ready to use.
Learn more about KrakenD API Gateway at its page on the Azure Marketplace. Contact us directly for custom offers available through the Azure Marketplace.
About KrakenD
KrakenD provides a simple yet powerful open-source software solution to embrace increasing platform complexity and common architectures such as microservices. KrakenD launched its open-source API Gateway in 2015. Since then, it has served an impressive roster of clients, with 1.8 million servers leveraging the technology every month for companies such as IBM, eBay, Mail.Ru Group, Corsair Gaming Inc., 99P Labs (a joint partnership between Honda and The Ohio State University), and Hepsiburada.
For more information, press only:
---
If you are new to KrakenD or Azure AKS read this excellent step by step guide on how to use KrakenD on Kubernetes